Disclosure: We are a professional blogging site that receives compensation from the companies whose products we review. We test each product thoroughly and give high marks to only the very best. We are independently owned and the opinions expressed here are our own.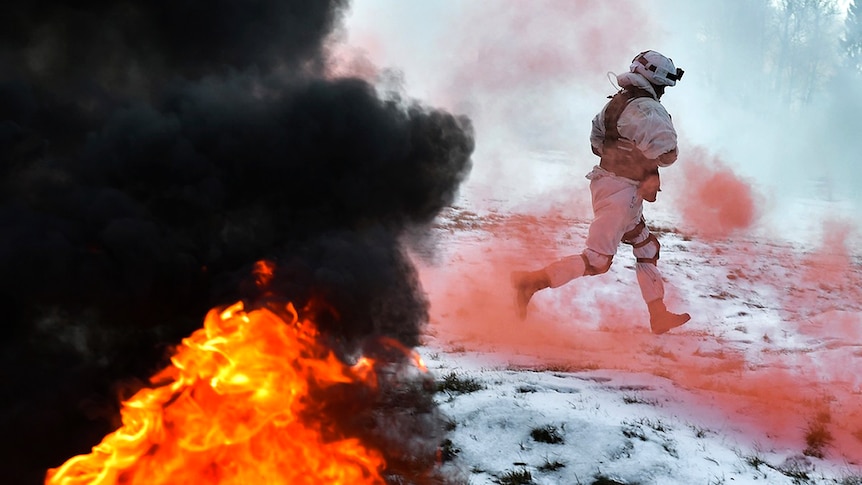 The United States has delivered written replies to sweeping Russian security demands, a key step in a fragile diplomatic process, as Ukraine played down fears of a Russian invasion. 
US Secretary of State Antony Blinken said the document, handed over in person by US ambassador to Moscow John Sullivan, addressed Russia's concerns and raised those of the United States and its allies.
He told reporters the response set out a serious diplomatic path forward, should Russia choose it, and had a principled and pragmatic evaluation of Moscow's concerns.
He added that the United States was open to dialogue.
"Putting things in writing is… a good way to make sure we're as precise as possible, and the Russians understand our positions, our ideas, as clearly as possible. Right now, the document is with them and the ball is in their court," he said.
Washington has made clear that Russia's demands that NATO pull back troops and weapons from eastern Europe and bar Ukraine from ever joining are non-starters, but says it is ready to discuss other topics such as arms control and confidence-building measures.
Whether Russian President Vladimir Putin is prepared to accept that limited agenda will determine the next phase of the crisis, in which Moscow has massed around 100,000 troops near the border with Ukraine while denying it plans to invade.
Russian Deputy Foreign Minister Alexander Grushko told Interfax news agency, when asked how much time Russia would need to study NATO's response: "We will read it. Study it. The partners studied our project for almost a month and a half."
The Kremlin has repeatedly denied it has plans to attack Ukraine.
Meanwhile, Russia staged new military drills on land and on the Black Sea and moved more paratroopers and fighter jets to Belarus, north of Ukraine, for what it describes as joint exercises there next month.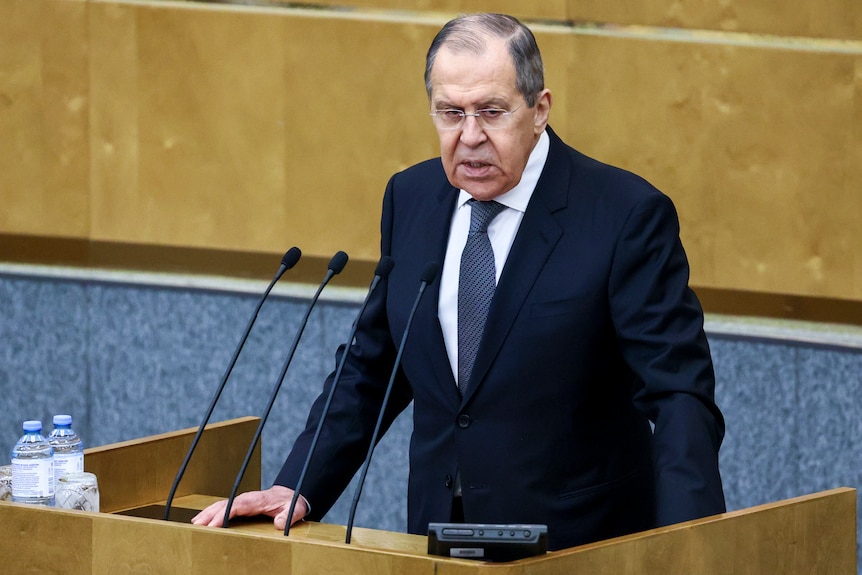 Speaking earlier to Russia's parliament, Russian Foreign Minister Sergey Lavrov said he and other top officials would advise Mr Putin on the next steps after receiving the written replies from the US.
"We won't allow our proposals to be drowned in endless discussions," he added.
He mocked fears of an imminent invasion, saying that "our Western colleagues have driven themselves up into a militarist frenzy", adding that "the Ukrainian elite itself has grown a bit scared by the Western scare".
Russian troop numbers 'insufficient' for invasion
NATO said this week it was bolstering its deterrence in the Baltic Sea region and the US ordered 8,500 troops on higher alert for potential deployment to Europe.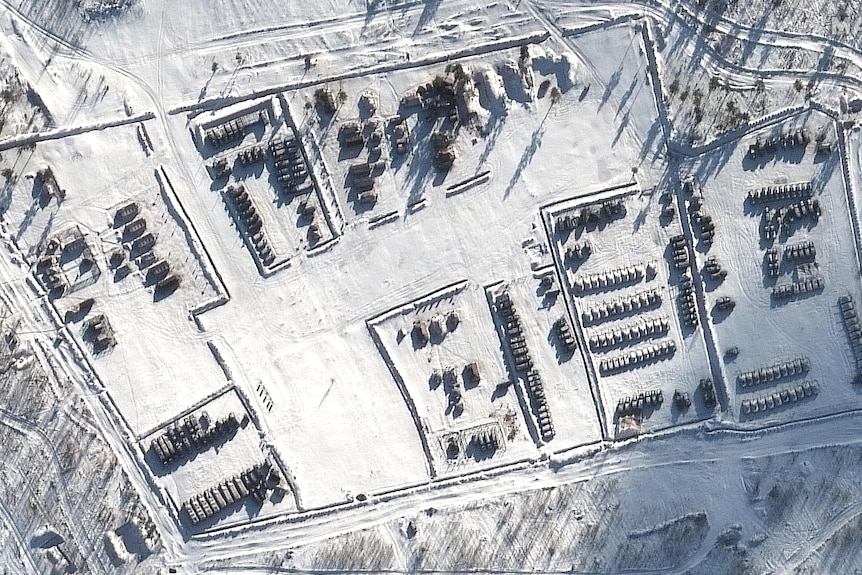 Western nations have also sent plane-loads of weapons to help Ukraine strengthen its defences.
Amid the escalating tensions, Ukrainian officials have sought to calm nerves.
Ukraine Foreign Minister Dmytro Kuleba said while the concentration of Russian troops near Ukraine posed a threat, "their number is now insufficient for a large-scale offensive".
"They are still missing some key military elements and systems to mount a big, full-scale offensive," Mr Kuleba told reporters.
As others have pointed out, he noted that causing alarm could be an end in itself.
Russia, he said, hoped to destabilise Ukraine by "spreading panic, raising pressure on Ukraine's financial system and launching cyber attacks".
"President Putin would be happy to see that plan succeed so that he doesn't even need to turn to military force to put Ukraine in a vulnerable position," he said.
His comments were the latest from Ukrainian officials seeking to reassure their citizens.
Speaking late on Tuesday in a speech to the nation, President Volodymyr Zelensky said Ukraine was "strong enough to keep everything under control and derail any attempts at destabilisation".
Amid the tensions, the US, Britain, Australia, Germany and Canada have moved to withdraw some of their diplomats and dependents from Kyiv, a move that Mr Zelensky sought to play down as part of a "complex diplomatic game".
On Wednesday, the US Embassy in Kyiv urged all US citizens visiting Ukraine to consider leaving the country now, pointing out that the security situation "continues to be unpredictable due to the increased threat of Russian military action" and could "deteriorate with little notice".
Loading
Sanctions would be 'politically destructive'
NATO secretary-general Jens Stoltenberg called on Russia to "immediately de-escalate the situation", saying disagreements must be resolved through dialogue and that every nation should be free to decide its own security arrangements.
In Paris, diplomats from Russia, Ukraine, France and Germany held more than eight hours of talks on ending a separatist conflict in eastern Ukraine, part of the wider crisis between Moscow and Kyiv that risks becoming a full-scale war.
The US and its allies have threatened harsh sanctions if Moscow sends its troops into Ukraine, but they have given few details.
On Tuesday, US President Joe Biden said Mr Putin "continues to build forces along Ukraine's border", and that an attack "would be the largest invasion since World War II. It would change the world".
He warned that there would be serious economic consequences for Mr Putin, including personal sanctions, in the event of an invasion.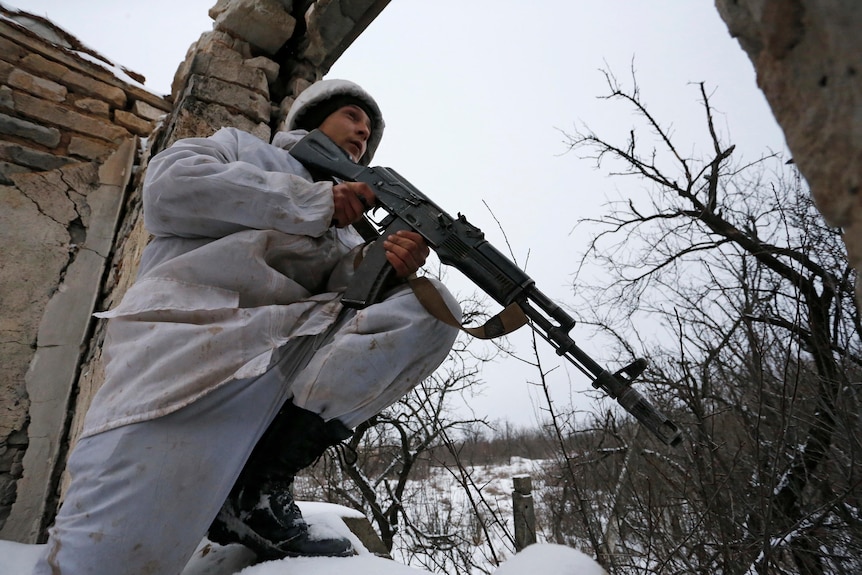 Earlier on Wednesday, responding to those comments from Mr Biden, Russia said such a move would not hurt the Kremlin leader but would be "politically destructive".
Kremlin spokesman Dmitry Peskov said US lawmakers discussing personal sanctions against Russia's top leaders were ignorant of the fact they were legally barred from holding assets, property and bank accounts abroad.
Mr Putin's personal wealth is a sensitive topic in Russia. According to his most recent official disclosure, he earned just shy of 10 million roubles ($177,000) in 2020.
Mr Peskov has previously said that imposing sanctions on Mr Putin would amount to a severing of diplomatic relations.
Britain also promised sanctions, and Foreign Secretary Liz Truss urged European nations to do more to support Ukraine.
The UK has sent anti-tank weapons to Ukraine, although it has ruled out sending combat troops.
"We'll be legislating to toughen up our sanctions regime and make sure we are fully able to hit both individuals and companies and banks in Russia in the event of an incursion," Ms Truss told the BBC.
"What's important is that all of our allies do the same."
German Foreign Minister Annalena Baerbock stressed at a meeting with her Dutch counterpart in Berlin that the European Union's goal continued to be "the defence of Ukraine's sovereignty and territorial integrity".
ABC/wires